Blind Badger Ranch is located south of Fort Morgan, Colorado and is owned by Jim Hett and Bud Gamel. They established the operation back in 1999, and currently run 550 head of Maine-Anjou, Angus, and Simmental influenced females, which is the foundation of their breeding program. Both Jim and Bud couldn't do it without their Ranch Manager, Brian Fox, his wife Paula and their kids, their Farm Manager Mike Hansen, or their show barn help. They rely on and trust these individuals to take care of the day-to-day business on the ranch, and they do that beyond the owners' expectations, and they make up a team that the business is truly grateful to have. The ranch consists of 17,500 acres. 6,600 acres are dryland wheat, corn, millet, and fallow. Some of the grain they produce is used on the ranch, but with an annual rainfall of less than a 14 inches, silage is purchased from nearby farms to be used as feed for the cows. They also farm 900 acres of irrigated grass and alfalfa hay, which is put up into small bales and large rounds and is marketed by Jim's daughter, Taylor as Blind Badger Ranch Hay Company. Pastures accounts for another 10,000 acres of the ranch, for the cows to be sorted into and rotated throughout the year on their short grasses. Due to having such a small amount of precipitation, they must run cattle on large pastures and must concentrate on breeding sound, hearty cattle with good feet and legs. They have found that the Maine-Anjou breed works best because of their ability to succeed in the feedlot, in the pasture, as well as the showring.
Their breeding program consists of an extensive artificial insemination (AI) and embryo transfer (ET) program. Their program is designed for calving January through May. The pairs are then run on native grasses throughout the summer. A group of heifer and steer calves will be hand picked and broke in preparation for private treaty sales in late summer and fall. Bull calves are sold at National Western Stock Show and the Nebraska Cattlemen's Classic, with the remainder being offered private treaty at the ranch. Blind Badger Ranch has been honored with numerous awards over the years, but their main goals is to help support the youth of this industry, both in and out of the show ring. Please reach out to anyone at Blind Badger Ranch if there is anything they can do to help you and your program at home.
---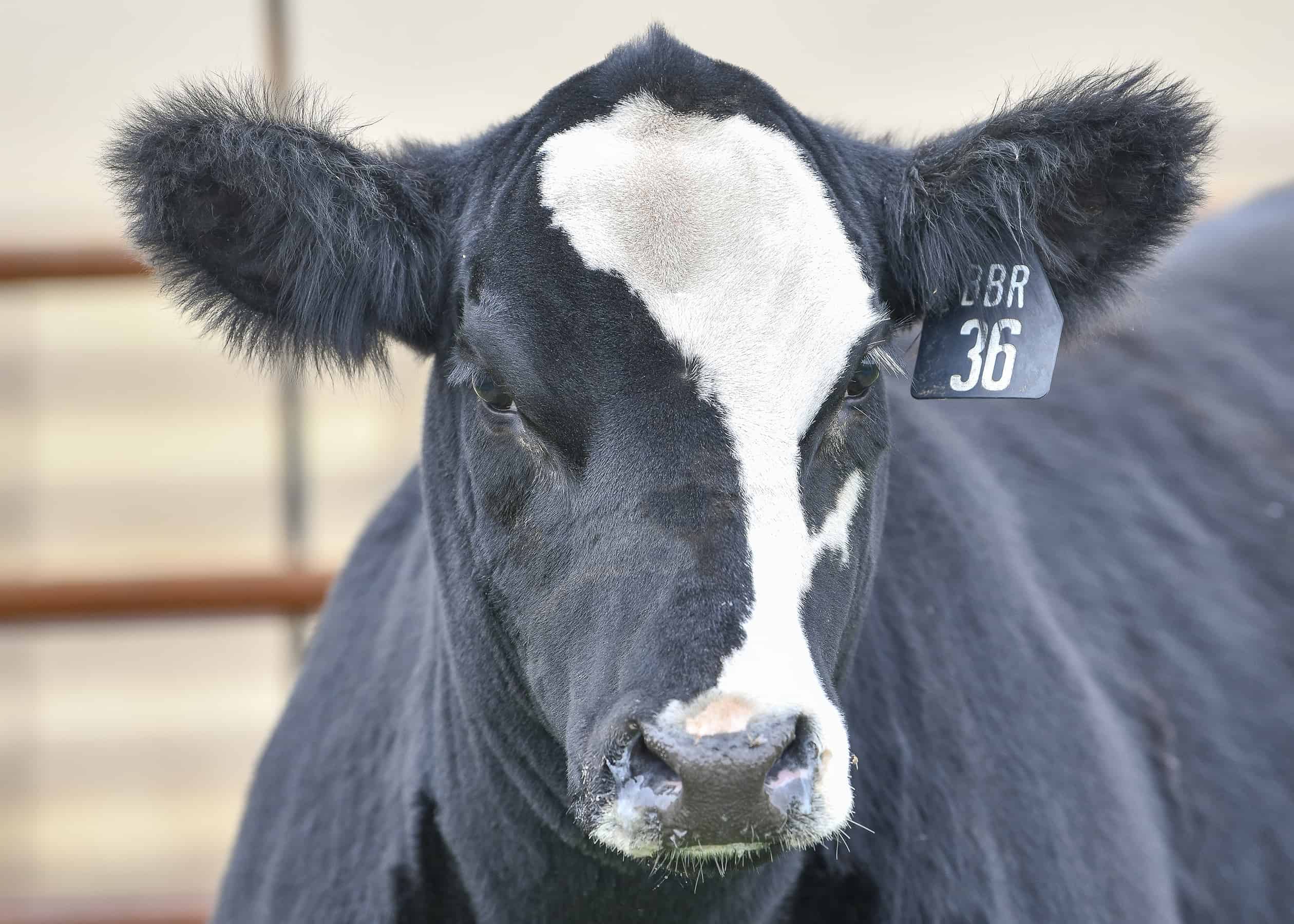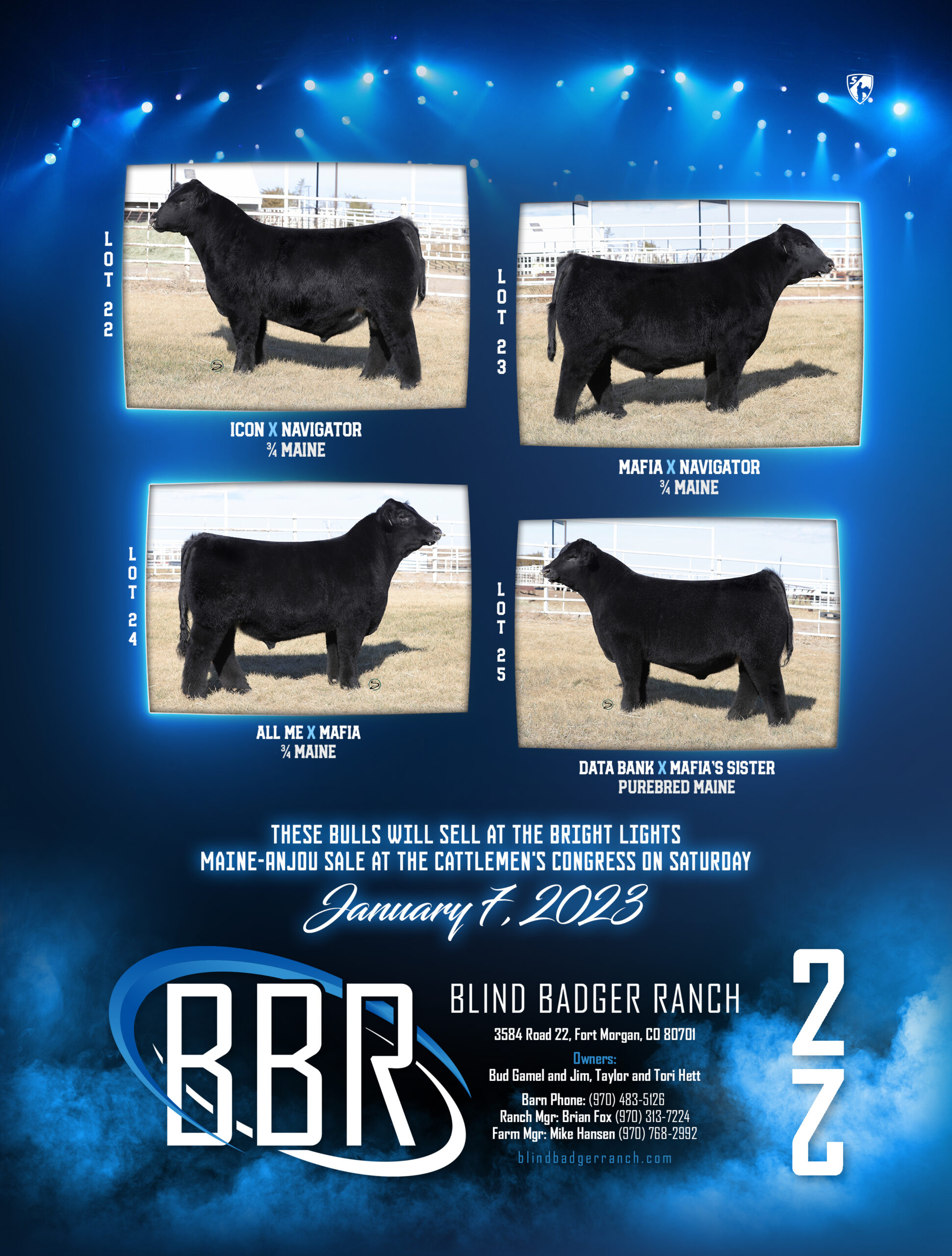 ---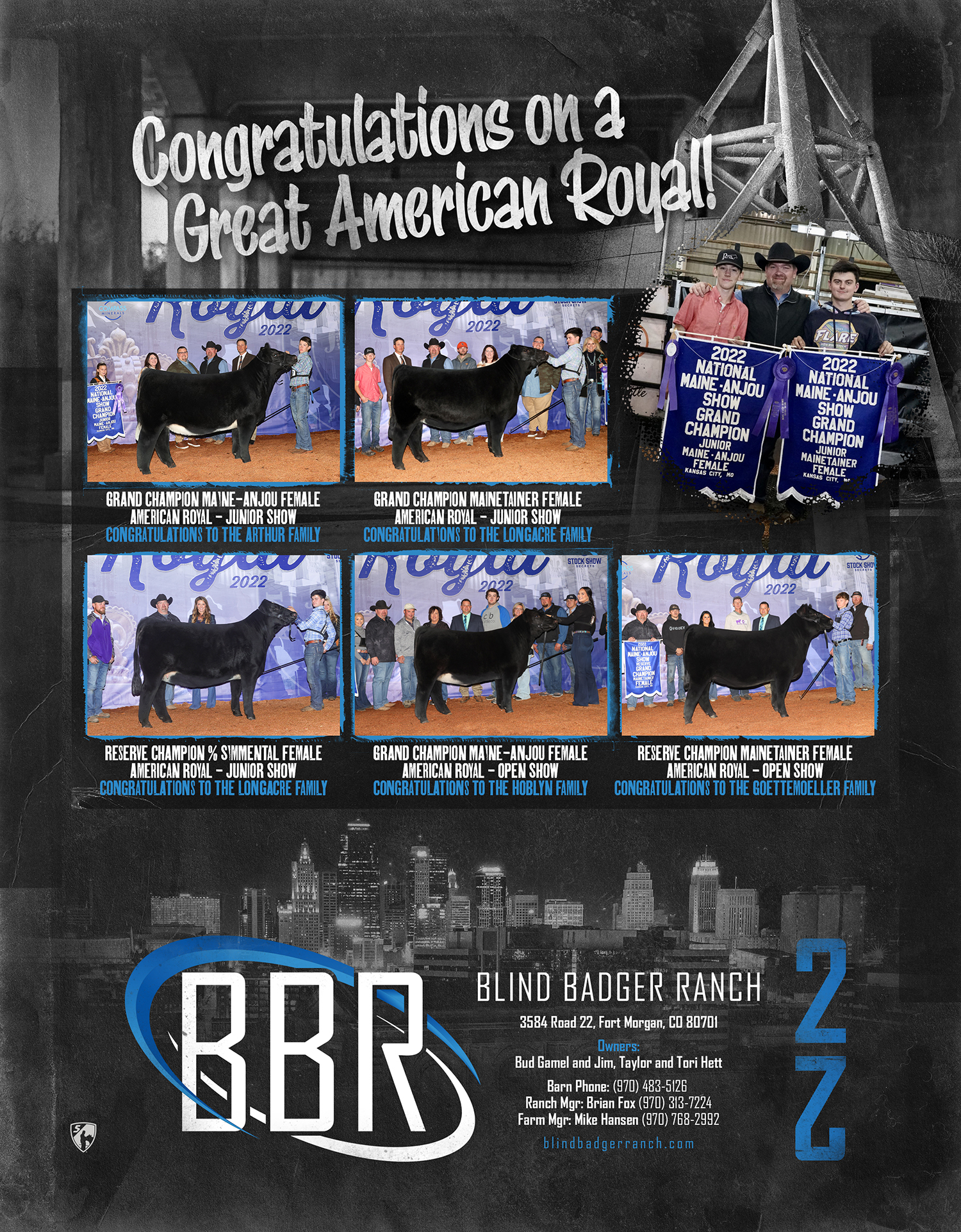 ---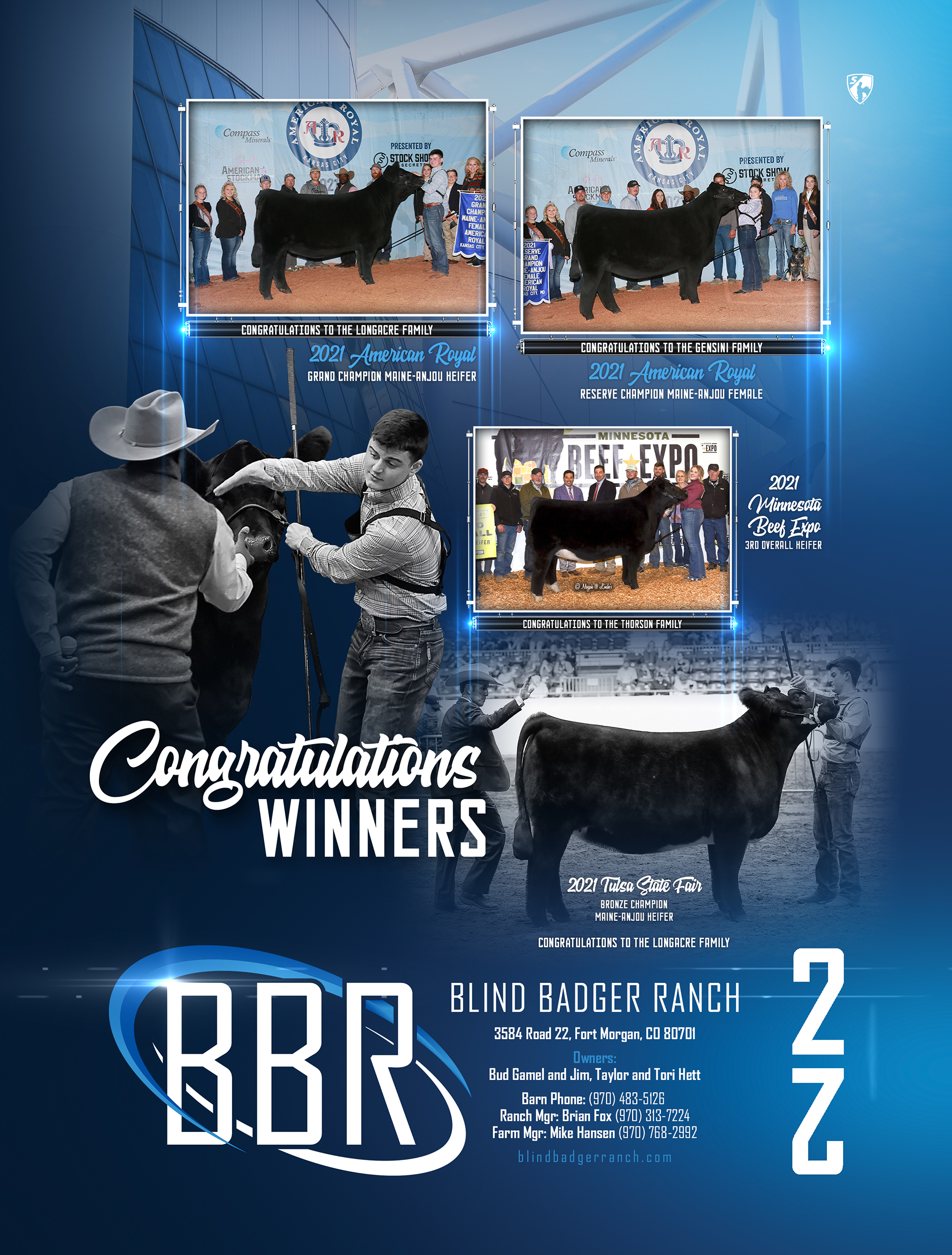 ---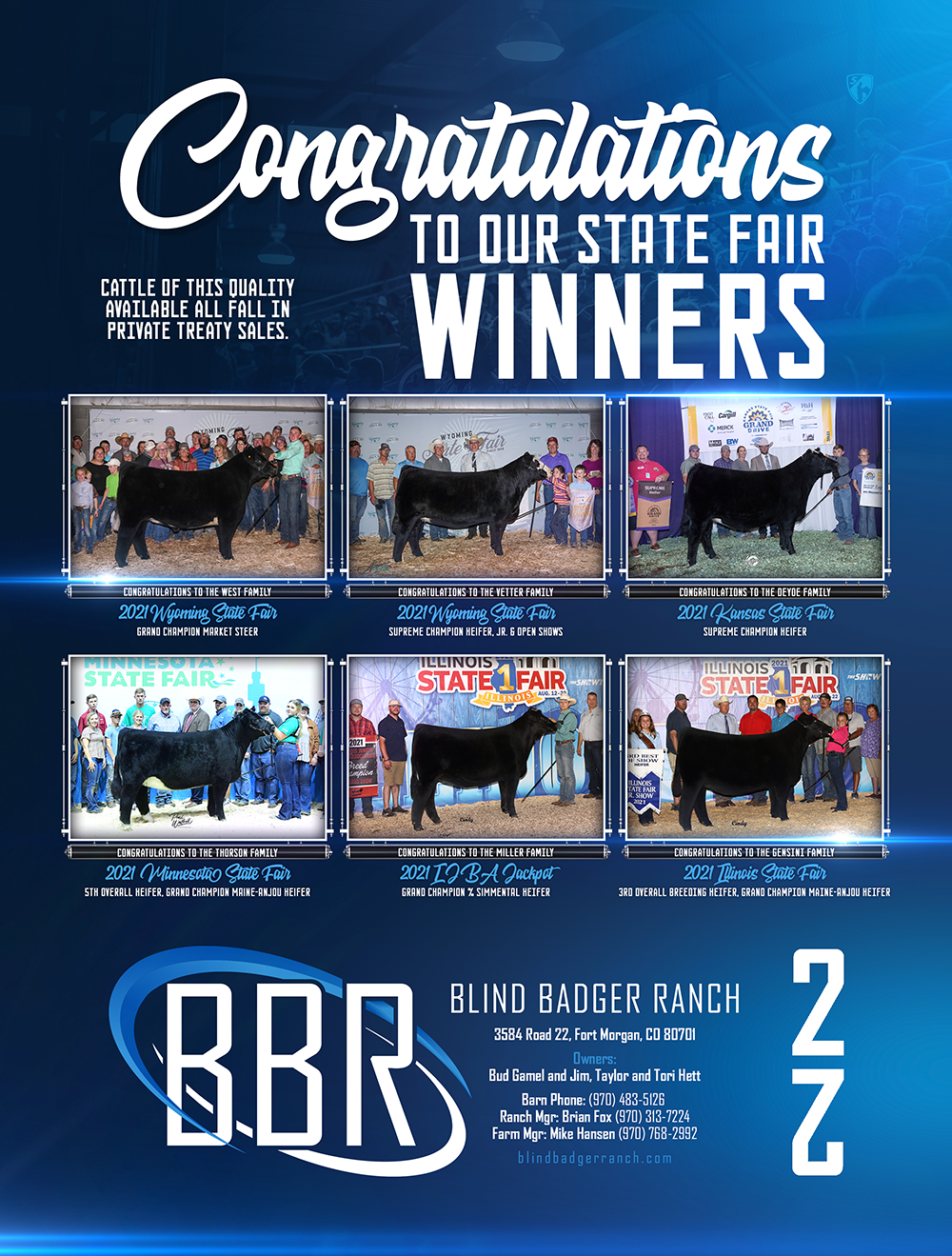 ---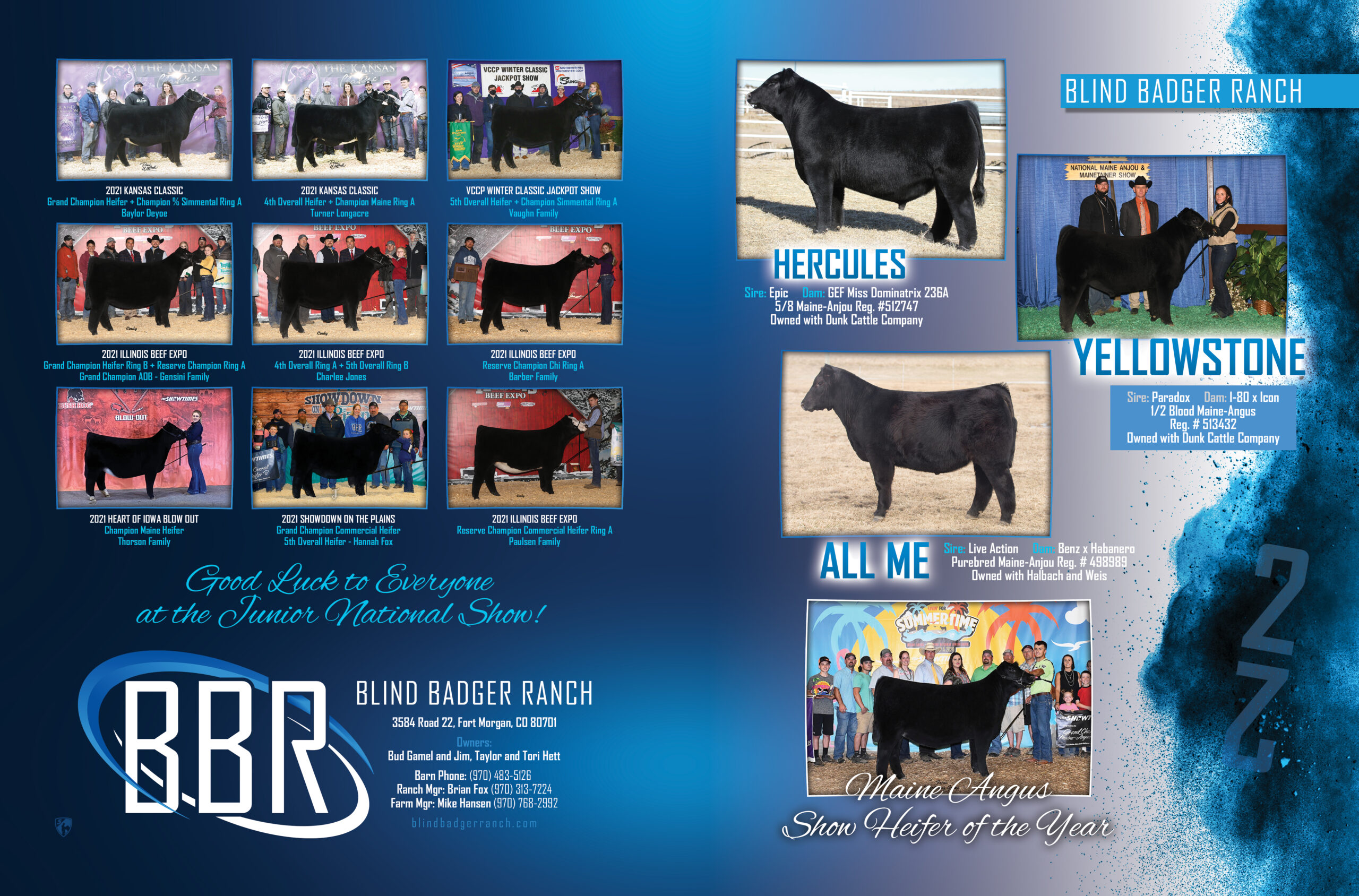 ---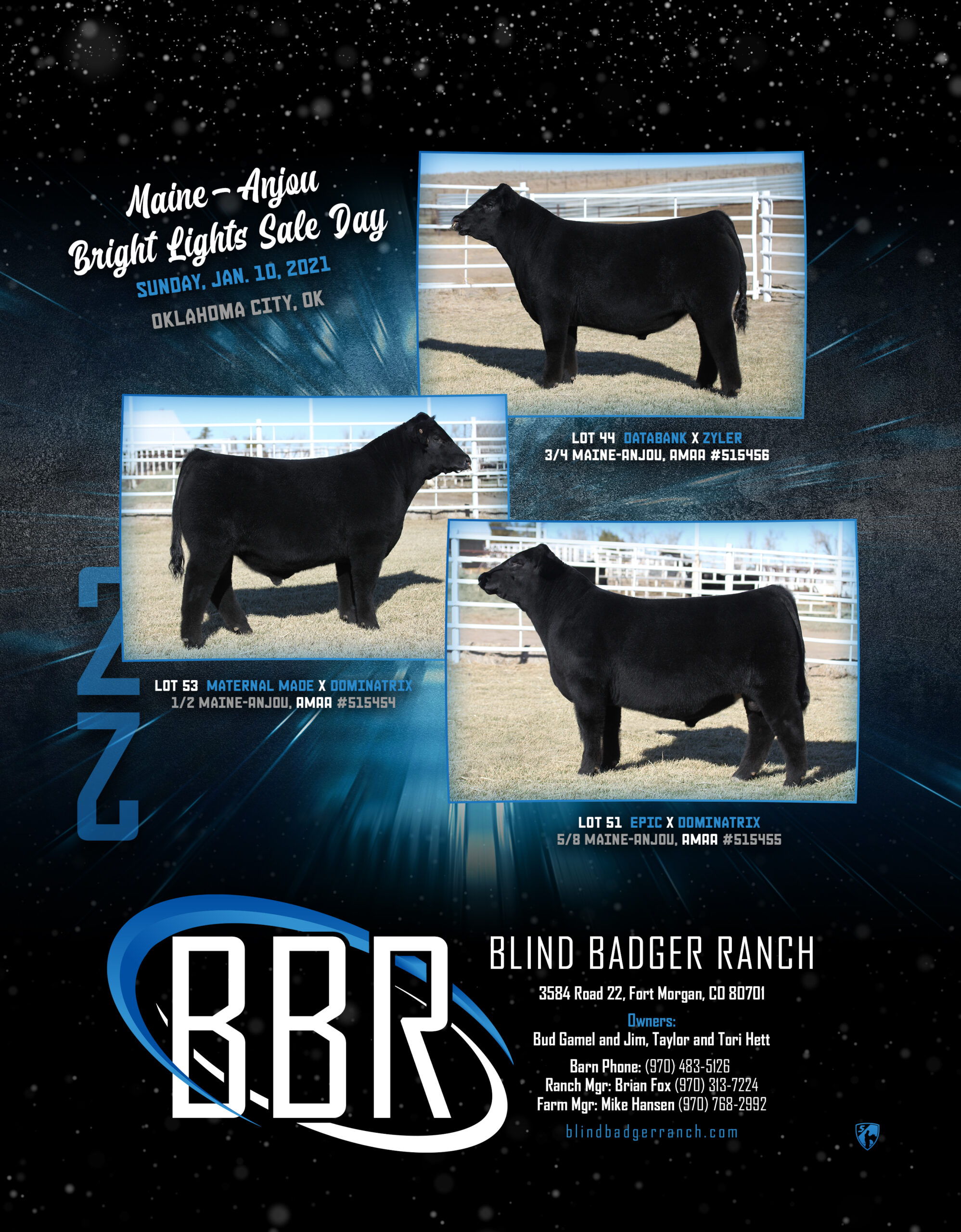 ---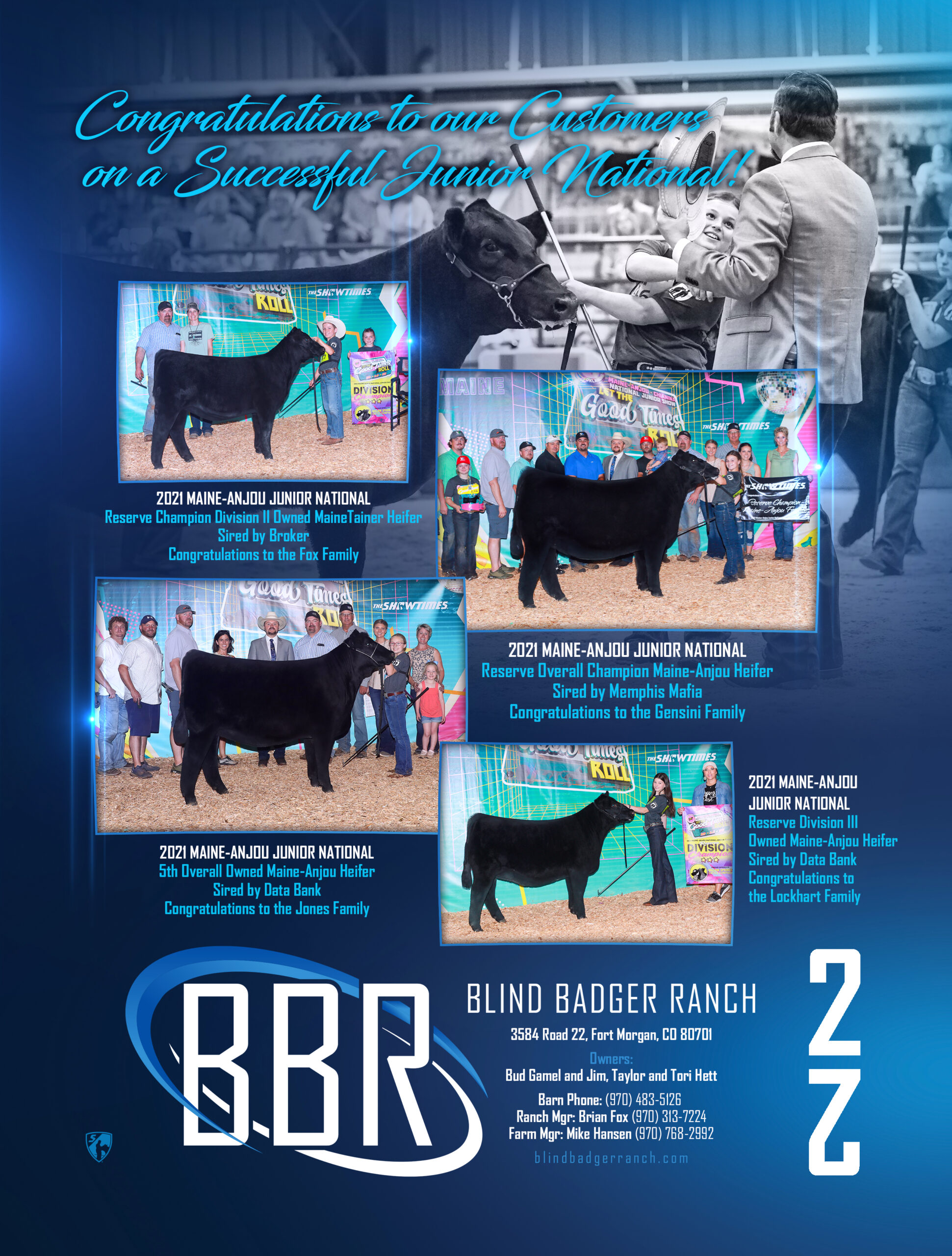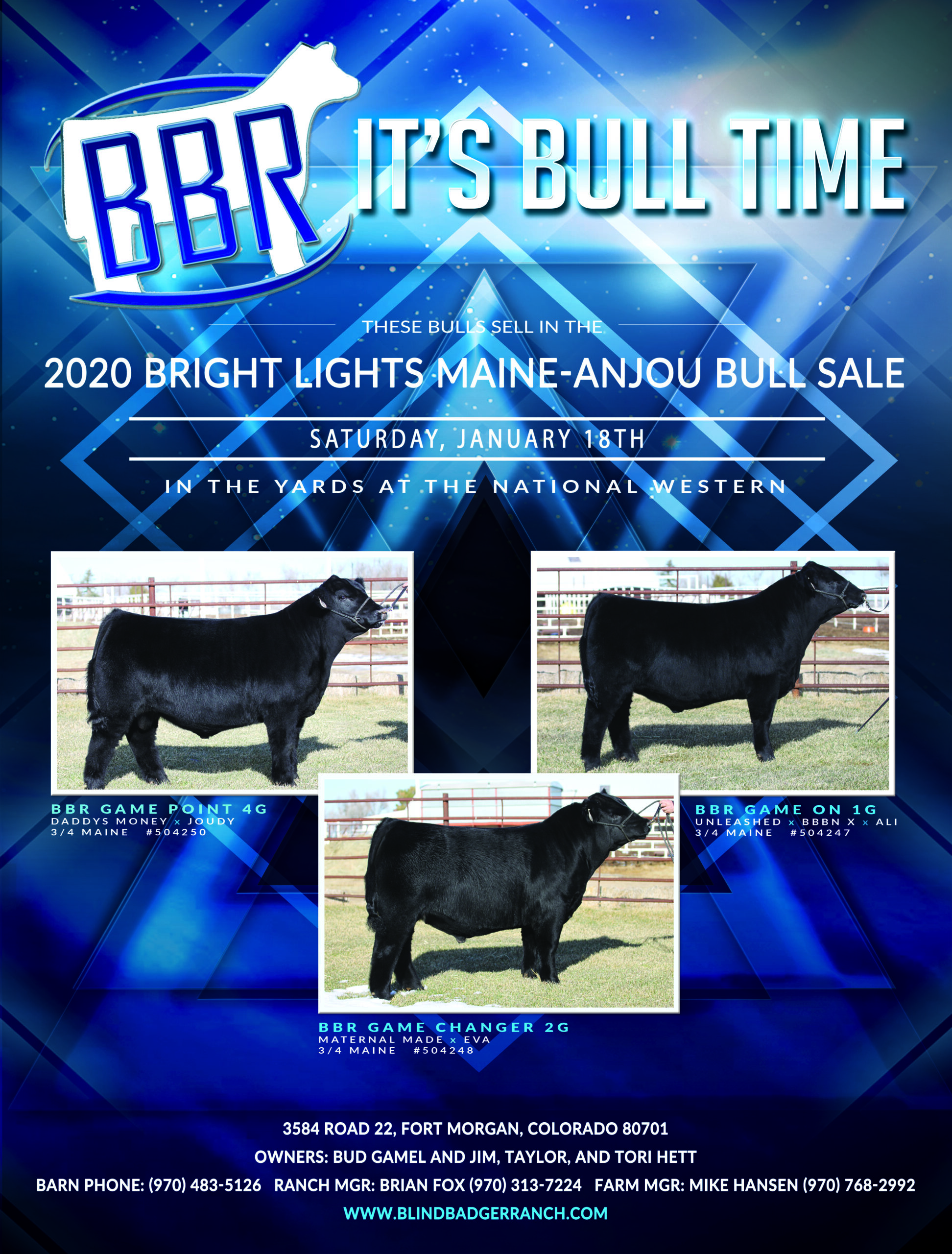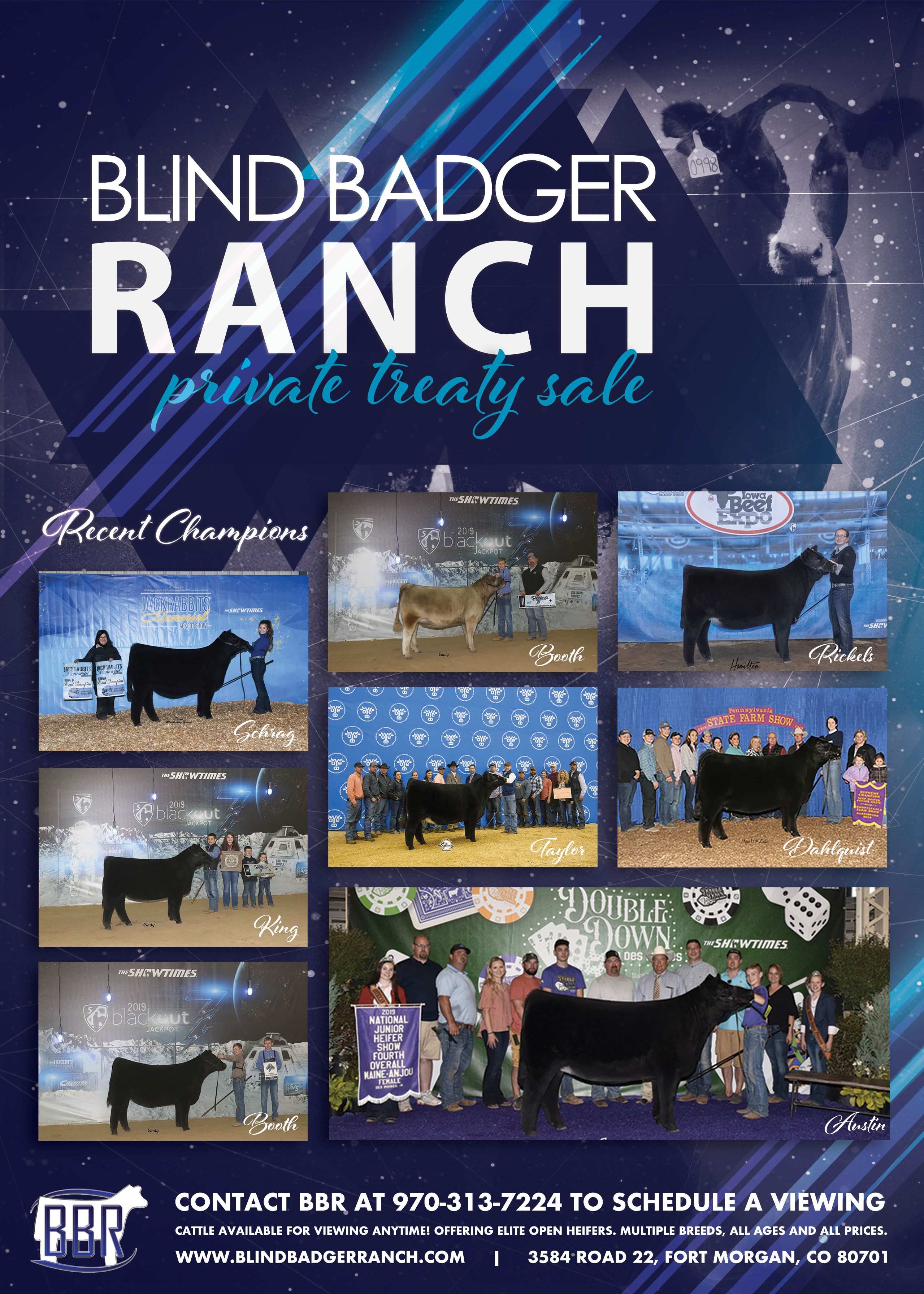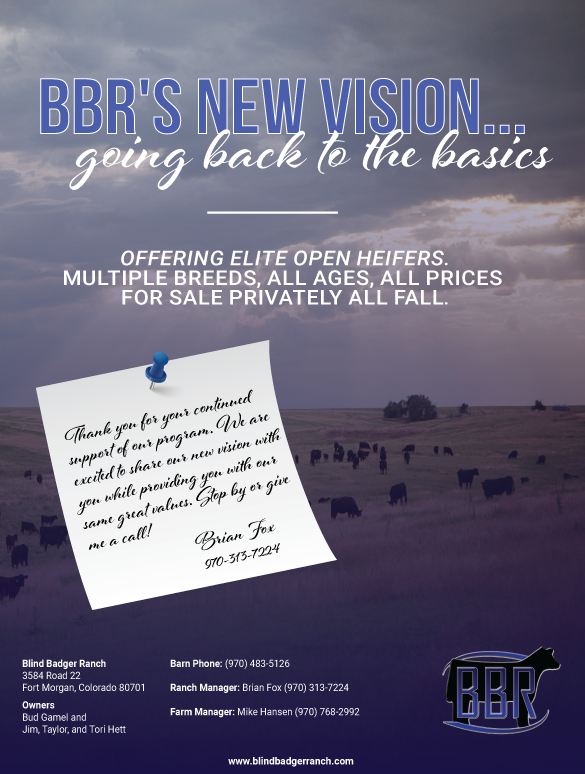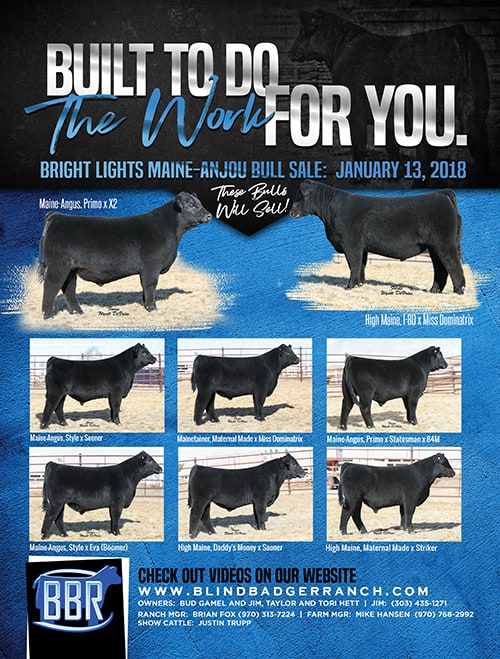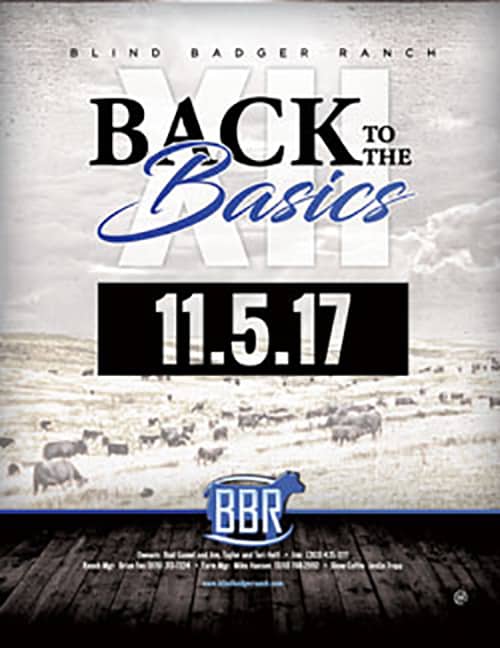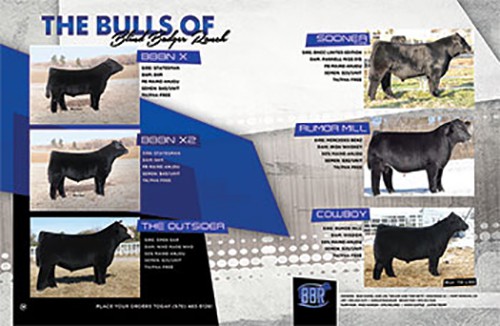 ---
DROP US A LINE, WE'D LOVE TO HEAR FROM YOU!
---
3584 Road 22
Fort Morgan, Colorado 80701

Owners:
Bud Gamel and Jim,
Taylor and Tori Hett
Barn Phone: (970) 483-5126
Ranch Mgr: Brian Fox
(970) 313-7224
Farm Mgr: Mike Hansen
(970) 768-2992